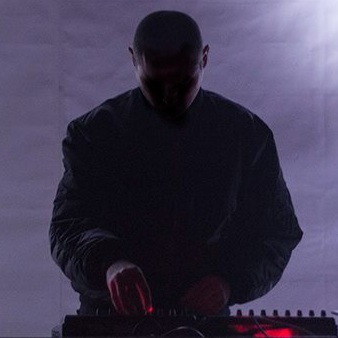 Hi-Res image download here
LAST UPDATE 16.4.2019

Pure has been producing and performing radical electronic music since 1991.
As a DJ he draws on almost 30 years of experience combining dark and broken techno with rough electro, relentless rave, dirty acid, breaks and industrial. He has played everything from tiny squats to mid-sized clubs and warehouse raves.
His live sets merge three decades of electronic dance music with everything slow, heavy and grim – broken post-techno via doom metal, noise and dark ambient.
He has around 40 physical and digital releases and compilation contributions on labels such as aufnahme+wiedergabe, Ophism, Holotone, Monolith, Stirpe999, Editions Mego, Praxis, Staalplaat, Drop Bass Network and countless others.
Currently he is working on releases with The Horrorist, Christoph de Babalon, and M-F-X.
Current releases:
Pure – Track on "La Testa Del Re" compilation, Stirpe999
Pure – Tuluu Remix for Dadub, Holotone
Pure – Sleepwalking Remix for Current 909, aufnahme + wiedergabe
Current 909 – Something With Black In The Name ep, aufnahme + wiedergabe
Pure vs. Omniscience – Class of 95 ep, Ophism
Pure – Bestial Power , V.A., The Throbbing City, 3TH Records
Bolder – Hostile Environment, Editions Mego
MORE:
He developed the HEART CHAMBER ORCHESTRA together with Erich Berger between 2003-2012; an award-winning audio-visual composition for 12 musicians in which the heartbeats of the musicians create a score in real-time. HCO performed in Trondheim (NO), The Hague (NL), Graz (AT), Helsinki (FI), Sao Paulo (BR), Murcia (SP), Rennes (FR), and Houston (USA). The HEART CHAMBER ORCHESTRA won the 2nd prize at the FILE PRIX LUX award in 2010 and received an Honorary Mention from the PRIX ARS ELECTRONICA and VIDA 13.0 AWARD in 2011.
His early-90ies Rave prank-duo ILSA GOLD (together with Christopher Just) was the first internationally acknowledged Austrian techno act and is still active.
Being one of the driving forces behind bringing techno culture to Vienna in 1991 as DJ, producer and organizer, he departed from this soon after to move on to less explored and harsher fields of electronic dance music, like Hardcore and Breakcore. His turn towards experimental electronic music in the second half of the nineties went hand in hand with programming his own music software. He has been using this knowledge since then for computer based live performances and teaching at various Universities and education facilities.
In 2012 he released "Equilirium" as PRSZR (a collaboration with polish percussion duo HATI) on Swiss label Hinterzimmer
In 2014 he released the album "Hostile Environment" by his duo BOLDER (together with Heinrich At Hart) on Editions Mego.
He has played at numerous festivals around Europe and America, such as Argos (BE), Club Transmediale (DE), FILE (BR), Mutek (CA), RGB v1 (FR), Sendandreceive (CA), Phonotaktik (USA).
He holds a Master degree in Computer Music from the University of Plymouth (UK).